---
How to Connect to Your 3CX System
---
Locate your welcome email, if you can't find it, contact the helpdesk and we can send you a new welcome email for your system.
It is best to run this on your local desktop and not the cloud. You'll get better audio and video quality.
As with a lot of software on the market, some browsers work better than others. We recommend that you use Google's Chrome browser with this communication system to get the best results.
Under the Your Extension Details section of the welcome email there is a URL to access your communication system. Go to this link or type in connect.(yourcompanyname).com. Once there, you can bookmark this site for easier access in the future.
It will look something like this: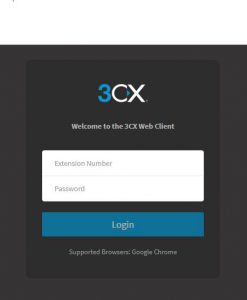 Enter your Extension Number and the password from the welcome email or your new password if you have changed it. We recommend changing the password the system sets to the same one you use to logon to keep it simple.
We hope you find this helpful. If you need assistance, please contact us at help@helptechgroup.com. We're here to get you connected!
For a short video, check out our YouTube video here about connecting to your 3CX system